App Expo
The 8th Annual Mobile CSP App Expo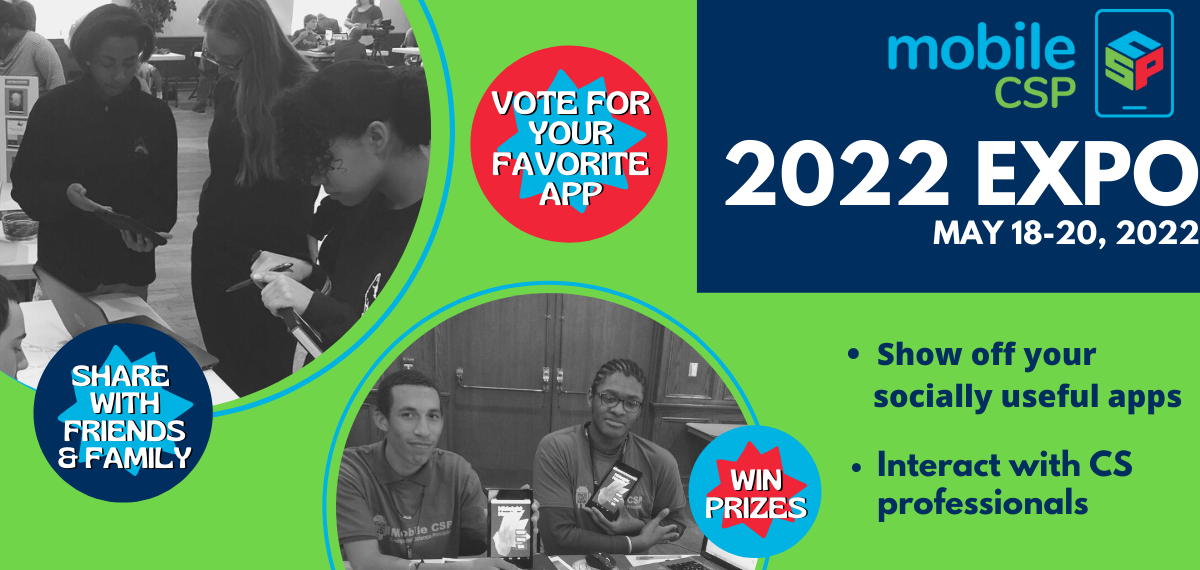 Did you miss the last expo? Check out the recap
here
.
When:
May 18-19, 2022 - viewing and voting
May 20, 2022 - virtual college fair and awards ceremony
Where: Online
The event is free! Teachers and students are encouraged to invite family and friends.
Registration opens Monday, May 2nd!
Students should first register via Eventbrite. Within 24 hours after registering, students will receive an email with instructions on how to submit their apps. Submitted apps should be original creations developed with MIT App Inventor in a Mobile CSP class. Be prepared to submit the name of your app, name of your programming partner(s), an abstract/short summary (max 100 characters), an app icon/image, and a demo video. Additional information can be included, but is not required. The submitted app should be an original creation developed with MIT App Inventor and submitted as their Create programming performance task for their Mobile CSP class. The deadline to submit is May 16, 2022 at 11:59 PM ET.
About the expo: At the expo, students will have the opportunity to showcase their mobile app creations. This expo is exclusively for students that are currently enrolled in the Mobile CSP course and those who completed the Mobile CSP course during the prior Fall semester.  Students are asked to submit one mobile app, per pair, into the expo. Submitted apps should have a socially useful theme when possible.
Family, friends, peers, and CS professionals will vote for the People's Choice Award/Favorite App with some cool prizes and/or certificates to be awarded at the conclusion of the event.
Join us LIVE for a virtual college fair and awards ceremony on Friday, May 20, 2022 from 10:00 AM - 1:00 PM ET via Zoom.
10:00-
10
:30 AM ET - Welcome and Overview of CS College and Career Pathways
10
:30-11:30 AM ET - College breakout sessions
11:30-11:45 AM ET - BREAK
11:45-1:00 PM ET - Award Ceremony featuring a guest speaker